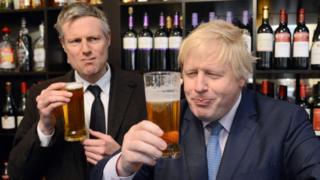 Zac Goldsmith, who has lost the London mayoral election, faced mockery during the campaign after being stumped by questions on Bollywood and the Tube. But why are awkward moments seized on so much?
Politicians spend years trying to get across serious messages. But just one gaffe getting caught on camera can instantly undo all the good work.
If things don't look right, brutal mockery can follow.
Grimacing while eating a bacon sandwich, pointing down a toilet, or holding up a banana for no apparent reason – the public notices those things. Social media makes doubly sure of that.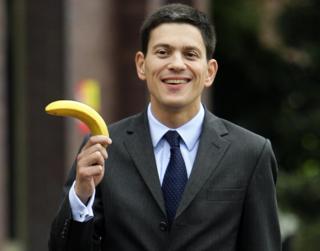 An abiding image of Conservative Zac Goldsmith's London mayoral campaign was his unorthodox method of holding a pint of beer – two-handed. Outgoing mayor Boris Johnson, standing next to Goldsmith, looked more comfortable, clasping his pint and looking at it like a man enjoying his first liquid intake in a week.
It's been suggested on social media that Goldsmith has a medical condition which causes tremors and could not hold the pint in the "normal" way. This was not well-known and the press hasn't been sympathetic, the Sun and Mirror joking that he "can't hold his drink". The Daily Telegraph reported: "London mayoral candidate Zac Goldsmith has been widely mocked for delicately holding a pint glass like a cup of tea."
Much of the media has portrayed Goldsmith as out-of-touch during the campaign, citing a failure to name a single Bollywood film (despite describing himself as a fan) and a lack of knowledge about Queens Park Rangers' home ground.
---
When photo-ops go wrong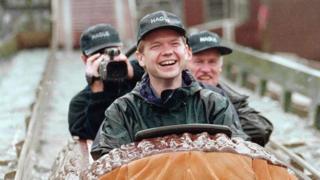 William Hague became Conservative leader in the wake of the party's landslide defeat in 1997; a subsequent attempt to reach out to younger voters resulted in this photo-op at a theme park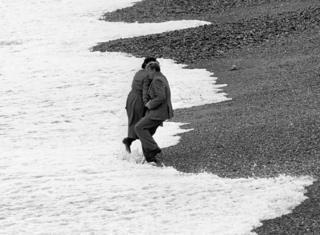 Neil Kinnock had just been elected Labour leader in 1983 when he lost his balance on Brighton beach; footage of the fall was repeated every week for several years in the titles of ITV's Spitting Image, and the picture remains one of the best-remembered images of Kinnock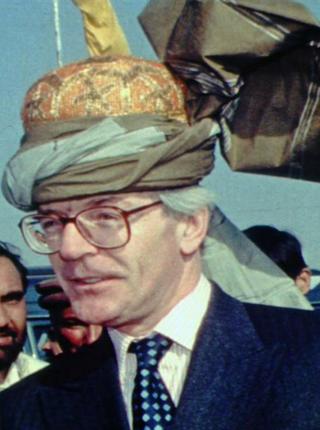 John Major was ridiculed for wearing this turban during a 1992 trip to India; according to the BBC's Nick Robinson, the experience of John Major and William Hague led David Cameron to refuse to wear a hat in any circumstances
---
But Goldsmith's not the first politician to suffer for trying to promote a man-of-the-people image.
"These things work best when politicians come across as authentic and comfortable in their own skin," says Lance Price, former press adviser to Tony Blair. He admits even the slick Blair PR operation got things wrong. "We tried to promote Tony as an ordinary guy one day by putting him on the Tube. He was hanging on to the strap as if he'd never done it in his life before and nobody was talking to him."
Another time, Blair was accused of taking extravagant holidays, so his staff advised travelling on Easyjet. "Prime ministers don't tend to use budget airlines," says Price, "and it just looked wrong."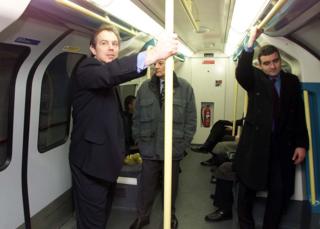 The stakes are high, warns Pete Davies of RMS PR, who has worked on photoshoots with Blair and John Prescott. "These shots can define a politician's career," he says. "Photography never lies and you can see a mile off the politicians who always look awkward in a shot."
Two years ago, Labour leader Ed Miliband was snapped eating a bacon sandwich at London's New Covent Garden market. The unflattering mid-chew view, plastered across the press, went viral.
A year later, a day before the general election, the Conservative-supporting Sun newspaper showed the picture again on its front page. "Save our bacon" was the headline, followed by: "Don't swallow his porkies and keep him OUT."
"The image resonated, unfortunately for Ed Miliband," says Price. "Photographers take something like 20 shots a second, so eating is always going to look bad at some point. There's a good reason why the Queen is never pictured eating in a still shot – it's hard for anyone to maintain their dignity in that situation."
Several politicians have let it be known that they won't eat on camera. A Google image search of the terms "Sadiq Khan restaurant", "Sadiq Khan food", "Sadiq Khan eating" or "Sadiq Khan cafe" brings up no pictures of the man who won London for Labour actually eating.
In the US, pundits say the presidential candidate who connects best with voters has passed the "barbecue test" – meaning they're the one they'd prefer eating and drinking a beer with. Some say this helped George W Bush and Barack Obama beat more awkward rivals.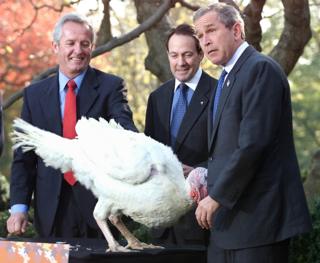 "It's what some people call 'relatability'," says John Street, professor of political science at the University of East Anglia. "But, while this has an effect, we want people who will take tough decisions, like whether or not to go to war. We'd be appalled if a leader turned up at a G8 summit wearing a Hawaiian shirt and Bermuda shorts."
It all depends on the situation, according to Street, who says Barack Obama is particularly good at behaving and dressing correctly for different occasions.
Last year David Cameron was photographed eating a hot dog with a knife and fork. It looked more elegant than Miliband's sandwich-eating, but didn't show the prime minister to be ordinary, his critics argued.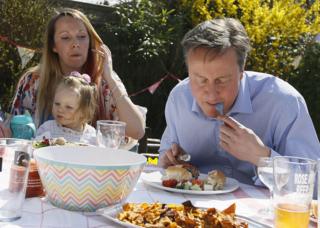 If a PR stunt goes wrong, Price says, one defence for a politician to make a joke of it. An extreme example would be when Boris Johnson got stuck on a zipwire during the 2012 Olympics and waved two Union Jack flags as he dangled.
"He handled it pretty well," says Street. "It's clear that he hadn't planned for it to happen, but Boris has this feeling about him that there's going to be a mishap. I don't think a politician who plays things straighter could have dealt with it in the same way."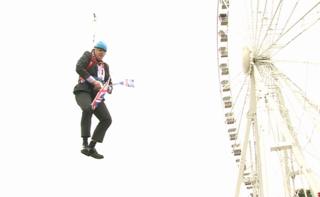 Follow Justin Parkinson on Twitter @justparkinson
Subscribe to the BBC News Magazine's email newsletter to get articles sent to your inbox.