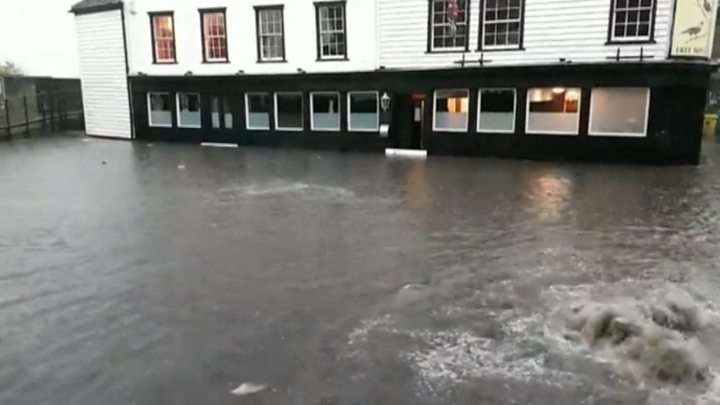 Motorists are being warned not to drive through flood water after thunderstorms and torrential rain brought parts of Kent and London to a standstill.
The Environment Agency has said further rainfall over the next few days could lead to more localised flooding.
The warning comes after south-east England received a month's worth of rain in a few hours on Tuesday.
Some roads remain closed due to the flooding, fallen trees and sewage overflow.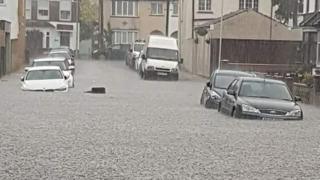 A spokesman for the Environment Agency said: "We remind people not to drive through flood water as just 30cm can move your car, and to check our active alerts and warnings – which are updated every 15 minutes – online.
"Our teams remain out on the ground, checking and operating defences and we are ready to support local authorities in responding to surface-water flooding."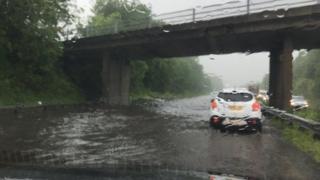 London Fire Brigade confirmed it received more than 100 flood-related calls on Tuesday.
Some train services were cancelled as railway lines were submerged and a number of flights from Gatwick Airport were also affected.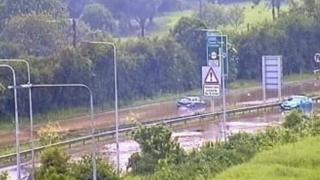 Almost the entire May average of 50mm (2in) of rain fell in a matter of hours.
A spokesman for Kent Highways said teams were still out working to clear floodwater from roads on Wednesday.
The worst problems were in Maidstone, Gravesham and Swale, in the north-east of the county.
Helen Whately, MP for Faversham and Mid Kent, was among those whose homes were flooded.
She tweeted: "Now the clear up begins. If you're waiting for a letter from me and it's a bit delayed, I am sorry! #flooding."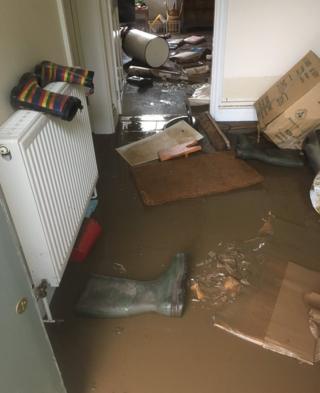 Stretches of the M2 – a key route from London towards the Kent coast – were also closed while members of the emergency services and Highways England cleared flood water from the carriageways.
London was also badly hit with about 30 houses flooded by up to 25in (64cm) of water in Erith, south-east London.
Four people were also rescued from their cars in Stratford, in the east of the city.
Two fires in north and west London, believed to have been caused by lightning, were among more than 100 calls the fire service received during the day.
BBC weather presenter Nina Ridge said there "could still be heavy, thundery downpours in the morning and for the next few days."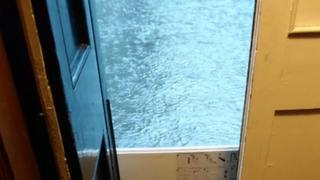 The Three Daws riverside pub at Gravesend was hit for the second time in three days.
Manager Lisa Bishop said flood defences were breached.
"My cellar is still underwater and I'm waiting for Southern Water to bring a pump to pump it out," she said.
"At least 20 barrels of beer are bobbing about."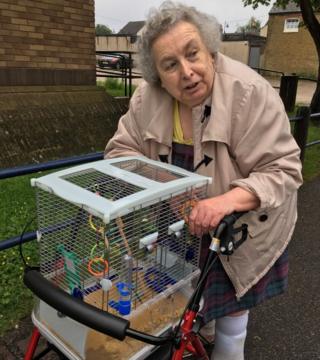 In Chatham in Kent, Judith White and her budgie had to move out of her house after flooding.
"Being on my own and not in the best of health, it's very scary. The worst thing is I've no insurance," she said.
.news-app-promo { box-sizing: border-box; background-color: #000; padding: 0.5em; margin-top: 1em; } .news-app-promo__section { display: inline-block; margin: 0 auto; position: relative; width: 100%; text-align: center; margin-top: 8px; } .news-app-promo-text { color: #fff; font-family: helvetica; min-width: 277px; border-right: 0.25em solid #fff; border-left: 0.25em solid #fff; padding: 0 1em; width: 35%; margin: 1em auto; display: block; } .news-app-promo-text__tagline { font-size: 1.09em; } .news-app-promo-text__download { font-size: 2.25em; font-weight: 600; } .news-app-promo-buttons { margin: 0 auto; max-width: 35%; display: block; } .news-app-promo-buttons__buttons { display: block; } .news-app-promo-buttons__logo { display: inline-block; } .news-app-promo-subsection { display: inline-block; margin: 0 auto; margin-right: 10px; } .news-app-promo__bbc-logo { display: inline-block; width: 106px; margin-bottom: 8px; } .news-app-promo__play-store, .news-app-promo__app-store { display: block; width: 161px; height: auto; margin-bottom: 8px; } .news-app-promo-subsection–link { text-decoration: none; border: 0; }