PM open to staying in customs union for longer but offered EU nothing new on Irish border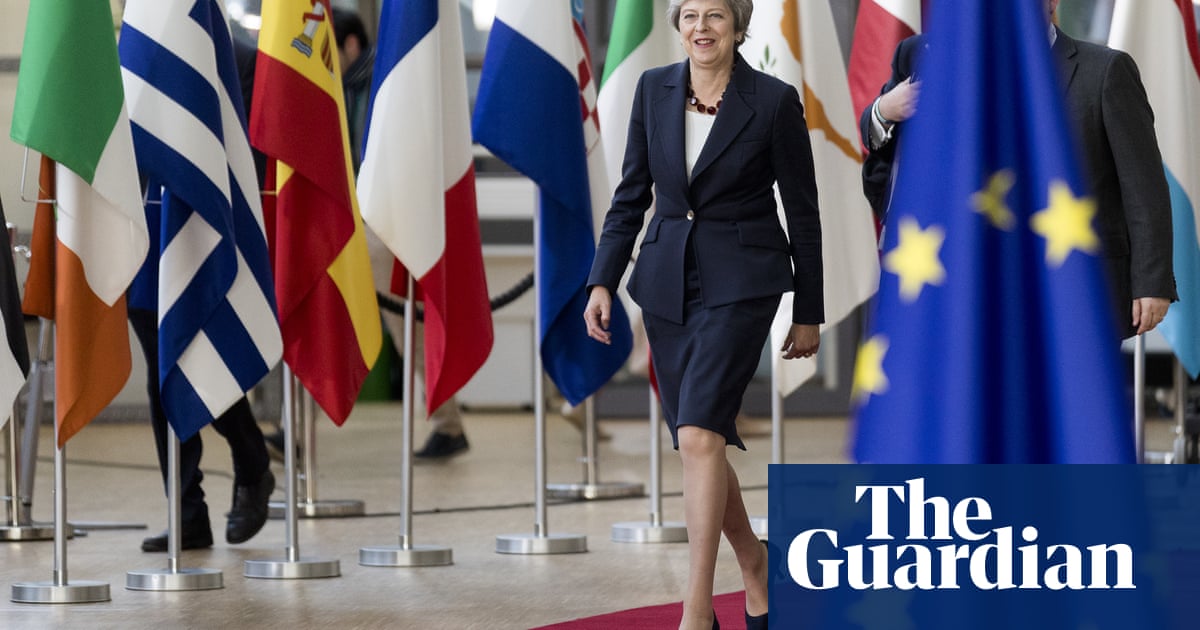 Theresa May has hinted that the UK could extend the Brexit transition period to allow more time for trade talks, but she dismayed leaders at a crunch Brussels summit by failing to offer any new ideas to break the impasse over the Irish border.
In a development that immediately drew the wrath of Brexit supporters, EU officials said that the prime minister had suggested she was "ready to consider" a longer transition period in the hope of breaking open the deadlocked talks. Downing Street sources later said that such a move – during which the UK would abide by EU rules but have no say in them – had not been ruled out.
May's concession on Wednesday came as she pleaded for "courage, trust and friendship" from both sides in her speech to EU leaders. But despite EU council president Donald Tusk's earlier demand for "new facts" to unlock the negotiations, the prime minister did not offer fresh proposals, instead highlighting the progress already made and the hurdles that remained.
"We have shown we can do difficult deals together constructively. I remain confident of a good outcome. The last stage will need courage, trust and leadership on both sides," she told her EU counterparts.
The prime minister appeared unable to persuade her audience that she could back her conciliatory tone with a substantial offer. Antonio Tajani, the president of the European parliament, said she had offered nothing new in her speech.
"I did not pick up anything substantially new in terms of content," he said. "I was listening to Mrs May. It was the tone of someone who want to reach an agreement [but] there is no change in content."
Tajani added that May appeared neutral on the idea of extending the transition period by a year, to the end of 2021. Another source familiar with the talks said that she told EU leaders that she was open to an extension of the transition "in a cautious way".
An extension of the Brexit transition period would likely mean the UK needed to make additional budget contributions to the EU on top of its £39bn divorce bill.
An EU source said that the leaders had decided over dinner that they would not call a special Brexit summit in November, as sufficient progress in the talks had not been made. The source said: "The EU27 leaders stand ready to convene a European council, if and when the union negotiator reports that decisive progress has been made. For now, EU27 is not planning to organise an extraordinary summit on Brexit in November."