A faith healer was killed, and a Canadian tourist was lynched in revenge deaths that expose the dangers of the unregulated world of ayahuasca tourism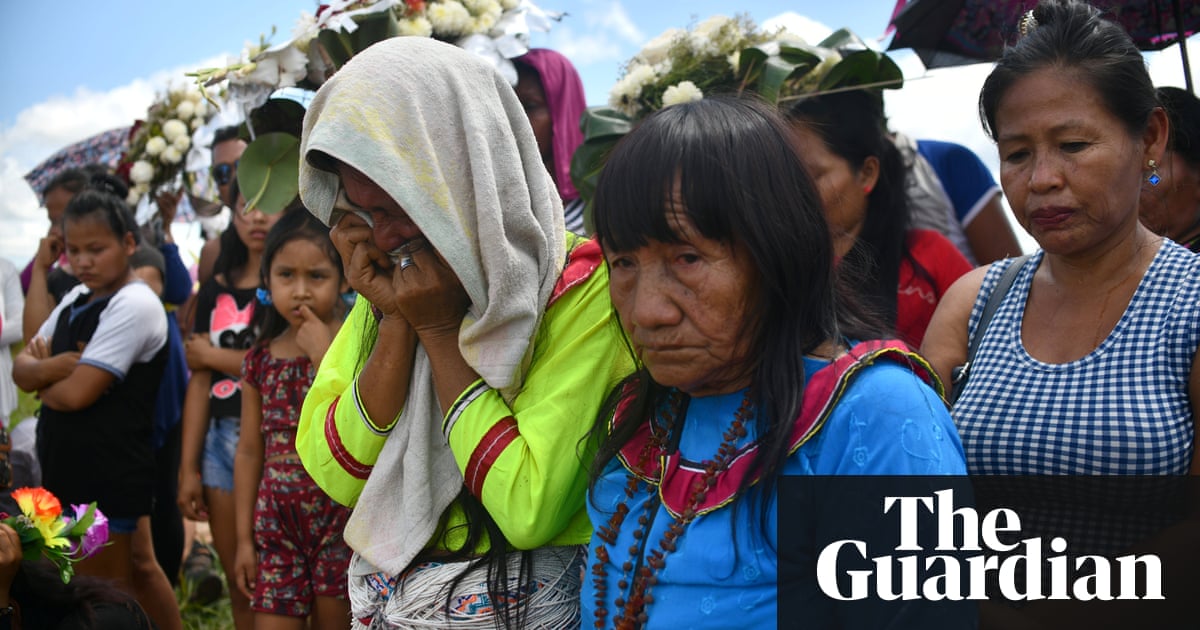 All traces of blood have been scratched from the dirt under the palm tree outside Olivia Arévalo's clapboard home in a remote hamlet in the Peruvian Amazon. A week later, it is as if the villagers want to rub out all signs of the shocking outbreak of violence that erupted here.
Arévalo, a traditional healer, was shot twice under a midday sun on 19 April. Witnesses say she collapsed to the ground, gasping: "They've killed me! They've killed me!" as her daughter Virginia ran to cradle her dying mother's head.
Within minutes, anguish spilled into uncontrollable rage: Arévalo's neighbours seized and lynched the alleged perpetrator, a Canadian man named Sebastian Woodroffe who had travelled to the region to learn about indigenous medicine.
The horrific double murder has cast a harsh spotlight on the unregulated world of ayahuasca tourism. Ayahuasca, a plant brew that contains the hallucinogenic drug dimelthytryptamine (DMT), has attracted to Peru thousands of western tourists seeking to cure everything from spiritual anomie to drug addiction through traditional shamanic ceremonies.
The boom has brought a welcome income for some of Peru's most marginalized communities, but it has also been implicated in a number of deaths – and provoked accusations of cultural appropriation and profiteering.
Arévalo, 81, was considered the spiritual mother of the Shipibo-Konibo, Peru's second largest indigenous Amazon tribe, known for its rich artistic tradition based on a cosmovision inspired by the shamanistic use of ayahuasca.
In the village of Victoria Gracia, Arévalo was known as Iyoshan, or grandmother – a term of affection and respect for the woman considered a walking encyclopaedia by the 40,000-strong indigenous group.
An hour's ride in a motorised rickshaw from the regional capital Pucallpa, along dirt tracks and rickety wooden bridges, the village now hovers between a tense calm and simmering indignation.
"Do you think a police officer has ever come to this remote place before? Never!" spits out Becky Linares in the village's tree-shaded plaza. "But when this Canadian died this place was full of them."
"There had to be a death for this to happen, but it was not because of the grandmother who was murdered, but because of the gringo," she said to a burst of applause and cheers of agreement.
Canada has warned against all non-essential travel to Peru following the killing of Woodroffe, 41. Graphic cameraphone footage of what were probably his final moments was posted online soon after his death, and appeared to show him appealing for mercy as a crowd, including several children, surrounded him.
A judge has ordered the capture of two men identified in the video. José Ramírez, the community's leader, and another villager, Nicolás Mori, could face between 15 years to 35 years for aggravated murder. Both have gone into hiding under the protection of Shipibo-Konibo communities deeper in the jungle.
Villagers claim that before the murders they had taken Woodroffe to the police station on three occasions after he showed up at the village acting strangely, apparently under the influence of drugs or alcohol.
"He never spoke, he never explained what he was doing here," said Miluska González, a village leader, told the Guardian. "All he would do was open a can of beer and start drinking."