The gold-medal winning shooter has had to overcome thyroid cancer, hitting the wrong target and a new home country as he pursues glory in Rio this summer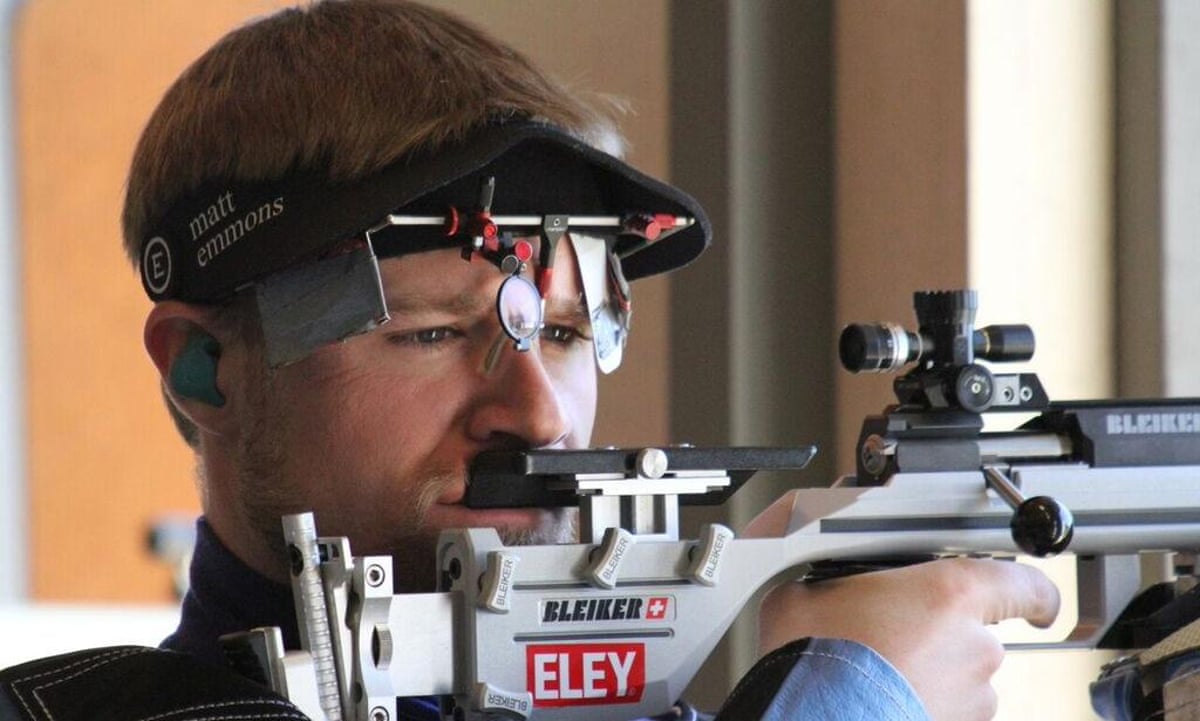 Funny story, says Matt Emmons.
Funny is relative. He may be telling the story of his first Olympics in 2004, in which he won a gold medal with a borrowed rifle after his was sabotaged, made a catastrophic blunder to miss out on a second medal, then met his wife. Or maybe the story of making an error on his last shot at two Olympics. Or winning his third Olympic medal in 2012. Or being diagnosed with thyroid cancer in 2010.
The affable, infectiously upbeat Emmons wouldnt be a three-time Olympic shooting medalist without a bit of zen calm in his life. Nor would he be who he is a devoted family man happily living in the Czech Republic without a couple of stray shots along the way. He could give REO Speedwagon a lesson in rolling with the changes.
Its been very amazing to me how well hes held up through all his diagnosis and treatment, and it goes to speak on his character, his perseverance and the strength that Olympic athletes have, said Dr Yuman Fong, a cancer surgeon whose daughters were Emmons team-mates and who advised Emmons on his thyroid treatment. Matt has more than many others.
Emmons has already qualified for the three-position rifle event in Rio, the event in which he has had two medals slip through his grasp but held on for bronze in London. In the upcoming US trials (April 1-8 in Fort Benning, Georgia), hell shoot for another Olympic berth in the prone rifle, in which he has gold and silver already.
Hes not over the hill. Hell turn 35 during the trials, and shooting medalists are sometimes in their 40s. But after all Emmons has accomplished and endured, what keeps him going in such a mentally demanding sport, where medals are won and lost by a matter of millimeters?
I really do love what I do, Emmons tells the Guardian. I think thats the heart of it for any athlete whos been in a sport as long as I have.
Its not about the medals. Ive got enough of those if I had to retire tomorrow, OK, fine. But when you can go in there and perform beautifully, the way you dream about, thats a wonderful feeling.
And hes still performing beautifully, winning a World Cup three-position event earlier this month in Thailand.
He has also settled comfortably into life in the Czech Republic, a path that started when he fired at the wrong target on his last shot in the 2004 Olympics three-position event. On that shot, I was just worrying about calming myself down and just breaking a good shot, and so I didnt even look at the number, said Emmons at the time. I probably should have. I will from now on.
Emmons went to a beer garden with other shooters to forget his troubles and met a young Czech shooter, Katerina [Katy] Kurkova. Three years later, they were married.
Four years later in Beijing, Emmons had a near-replay a medal in prone (this time, silver), and a solid lead lost on the final shot in the three-position. This time, he accidentally hit the trigger too soon while taking aim, scoring an unheard-of 4.4. And once again, he wouldnt let the experience get him down. He smiled and laughed while going through a gauntlet of interviews, playfully zinging a reporter who asked him about flaws in his mentality.
Dude, Ive got two Olympic medals, he said with a laugh. Theres nothing wrong with my mentality.
At the last Olympics, Emmons said, I met Katy. Maybe something good would happen this time. What he didnt tell reporters at the time: Katy, who won gold and silver in Beijing, was already pregnant.
But before settling into family life, Emmons faced another curveball on the eve of leaving for the 2010 Youth Olympic Games in Singapore, where he was scheduled to serve as an athlete ambassador, he felt ill and decided to see a doctor. A few tests later, he found he had thyroid cancer.
Surgery and radioactive iodine barely slowed him down. He went to Memorial Sloan Kettering in New York, took in a Yankees game, and got back to competition.
[Radioactive iodine] makes people enormously tired, Fong said. To continue training and competing it requires a special kind of person.
Emmons shrugs it off, just as he did his two Olympic errors.
The only difference now is that I take a pill every morning to make up for the thyroid I dont have, Emmons says. If anyones ever going to get cancer, thats the one you want. Its typically slow-growing.
By Emmons standards, London 2012 was uneventful. He didnt participate in prone, and he wasnt near the medals in air rifle. In three-position, he was in second place going into that crucial last shot.
No matter how you prepare mentally, I wasnt confident there was any way to calm myself and be completely in control for the last shot, Emmons says. I was going to prepare myself to be in control enough. [The target] was moving all over the place. I looked down and it was a 7.6. Then I looked over at the results monitor and Hey, bronze medal! Thatll work.
That said, Emmons was dealing with a couple of physical issues. He adjusted well to his thyroid medication, but years of shooting and training had taken a toll on his back a bulging disk and muscle imbalance. He spent a lot of time with sports medicine experts during the Games. Just overtraining and training incorrectly, Emmons explains.
So Emmons paces himself. He takes occasional breaks during the season and will take several months off after the Olympics. The breaks are more for the mental aspect, Emmons said. If you get ground into the same thing over and over again, your mind becomes dull to it.
Hell have plenty to do. He can make short trips in Europe to check in with the US biathlon team, with whom he consults on shooting technique. Living in Europe is also more convenient for Emmons equipment, with factories not far away.
Before Katys retirement from shooting, the Emmons family split time between continents. But Katys field, physical therapy, would have required a logistically difficult licensing process had the Emmons family stayed in the USA. Emmons learned to speak Czech and was comfortable with the move.
I really miss my family and our close friends, but at the same time, I cant complain about life over there at all, Emmons said.
Nor can he complain about the familys medal collection. He and Katy each have a matched set of gold, silver and bronze.
And maybe another in a few months. Either way, hell have another funny story.