All he ever wanted was a trip to Jacksonville—until evil came along and ruined his life. Star Bruce Campbell reflects on Season One and his doomed, 'Shakespearean' hero.
Ash is saving a lot of people, but hes also got a lot of people killed too.
When the gleefully gory first season of Starz horror comedy Ash vs Evil Dead wraps up Saturday, its bumbling hero will have doomed the world to hell for a chance to visit the vacation spot of his dreams: Jacksonville, Florida.
And to hear showrunner Craig DiGregorio tell it, Bruce Campbell will have barely survived the ordeal.
We definitely, like, choked Bruce on liquid. He got waterboarded, but with blood, DiGregorio recalls. Then there was another instance where he kind of went blind for a while because its so viscous and sticky. It got in his eyes and he couldnt get it out.
Campbell sums up 10 episodes worth of guns, guts, and Deadite dismemberments with Ash-approved simplicity: People wanted blood, man, and they got it.
For more than two decades, of course, what the people really wanted was more Ash. More buffoonery, more of his undeniable heroism, more smirking, brash badassery. And, man, they got it.
Twenty-three years after Army of Darkness, the last in Sam Raimis beloved Evil Dead trilogy, Ash vs Evil Dead brought Campbell back to his most iconic role, picking up with the chainsaw-handed hero well into middle age. The man who saved the world, we learn, has spent his peaceful days in blissful mediocrity, living in trailer parks, picking up women, guzzling beer, and working at a local electronics store.
The fan-proclaimed king of postmodern cool might have petered out the rest of his life in weed smoke-filled squalor had he not accidentally unleashed evil into the world (again) by reading from the Necronomicon Ex-Mortis, the Book of the Dead, while high and trying to impress a girl.
Ten episodes and untold barrels of blood later, not much about Ash has changed. He falls in sort-of-love with a cop, but the romance comes to an abrupt, bloody end. He becomes vaguely attached to his two sidekicks, Pablo (Ray Santiago) and Kelly (Dana DeLorenzo), but their arcs end with them aghast at their friend, who just willingly traded the fate of the world for a chance to skip town with them in his Delta 88.
Ash may be too foolish to ever grow up, but for DiGregorio and many of Ashs fans, thats part of his appeal.
The finale episodes, to me, show that this guy has grown maybe 2 percent, which is all you can hope for in a character like this, DiGregorio says. You dont want huge character shifts. It would feel disingenuous if he left the season having learned everything.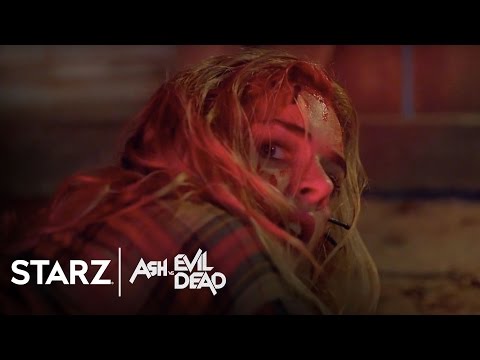 This is all to say that Ashs life, on paper, is desperately sad.
Hes a very tragic figure. Hes Shakespearean! Campbell says. Hes a little Joseph Campbell, too. Hes on a heros journey, a bumpy road.
Campbell, whos known for assuming a kind of hybrid persona when talking Evil Deadhalf-Bruce, half-Ashstarts channeling Ashs half-baked wisdom: Cause if youre a lazy bastard, you dont have to go the hero route. You can just sit in your trailer, drink beer, and watch softcore porn and your life is over, he says, authoritatively. But if youre the hero, you gotta step out and make decisions, and some of them are gonna be really bad. People are gonna croak. Ash is saving a lot of people, but hes also got a lot of people killed, too.
That the beer-bellied Ash is so unlike most of pop cultures hyper-competent heroes, Campbell says, is what keeps luring him back to Evil Dead. Hes so flawed. First scene [of the series] that Sam [Raimi] writes for Ash, hes putting on a man-girdle. To me, thats just so awesome, he says. Other directors, theyd be too afraid. Oh, no, we cant do that. That would just be unflattering.
Im like, Hell, yeah, it is! Ash has dentures, for gods sake! (And a bad knee and a bum shoulder.)
In the season finale, Ash returns to that old cabin in the woods for a supernatural showdown with Lucy Lawlesss Ruby, who reveals herself to be the original author of the Necronomicon. Campbell says the cabins interior set, faithfully re-created room-by-room from Raimis 1981 original, blew him away.
It gave me hives. It made the hair on the back of my head stand up, Campbell says. They got the cabin so right. I could literally walk from room to room and look through a doorway, and through every door was the right perspective down the hallway. Every window you looked through, you saw the correct door the other way.
They had the tape recorder, they had the laughing lamp, they matched the doilies and the tables. He pauses. It was justflawless. So, really disturbing.
The real-life Tennessee cabin that Raimi, his brother Ivan, and producer Rob Tappert (a college buddy of Ivans, and Lawlesss future husband) once scouted for Evil Dead, meanwhile, has long since burned down; only a chimney survives. The topic prompts Campbell into another fit of Ash-isms.
Minus Ashs gruff posturing, one could almost infer a tenderness in Campbells voice for those peoplethe Evil Dead devoteeshe keeps talking about. When asked what reservations he had about stepping into Ashs shoes again, Campbell replies promptly, Just letting fans down, thats the only thing I ever worried about. He betrays his affection when talking about the tattoos that Evil Dead fans send him, too. (He has over 300 saved in his collection.)
A determination not to let fans down also seems to have motivated Campbells one mandate on set, his bold statement as the custodian of Ashs unique legacy: Im not saying anything that I dont want Ash to say. Its just that simple, he says. And he better not sound like everybody else. Ash has to be an amalgam, he has to be a throwback. Hes a Luddite. But hes an idiot savant. Hes actually a way more complex character than I think most people think.
DiGregorio promises that Ash vs Evil Deads second seasonpremiere date TBAwill divulge more about Ash and his backstory, beyond what little weve learned through his acid trip and three movies.
But Campbell gets to the heart of why fans really keep returning, decade after decade, to Ash and his battle against the undead.
[Evil Dead] was the little movie that could. Were not Star Warswe never were. Nobody was famous in the movie and nobodys really famous today, Campbell says, breaking into self-deprecating laughter. They did their own thing and I think people can relate to that.