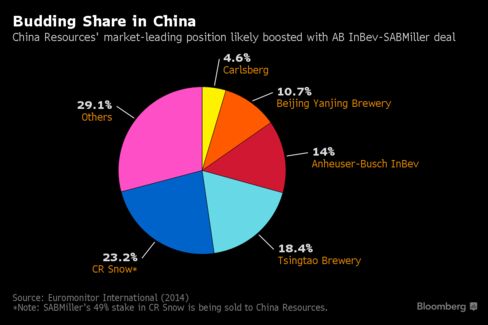 Anheuser-Busch InBev NVs $107 billion acquisition of SABMiller Plc is nearing Chinese approval after the companies agreed to divest the maker of Snow beer, the worlds top-selling brand, according to people familiar with the matter.
Approvals for both transactions could come as soon as this month based on typical review timelines, clearing one of the final hurdles for the biggest beer deal in history.
Though Chinas Ministry of Commerce may attach some conditions to the deal, including the Snow divestiture, regulators see no major hurdles, said one of the people, asking not to be identified because the deliberations are private. Some local beermakers told the ministry that they dont object to the takeover as it wont have a big impact on the Chinese market, another person said.
SABMiller shares closed up 3 pence to 4,306 pence in London, erasing an earlier decline. AB InBev shares fell less than 1 percent to 114.95 euros in Belgium.
The merged company would redraw control of the global beer market. Following divestitures, the deal will keep Budweiser, Becks and Stella Artois under AB InBevs roof, while ceding control of brands including Miller in the U.S. and Peroni and Pilsner Urquell in Europe.
In China, the companies agreed to sell SABMillers 49 percent stake in its joint venture with China Resources Beer (Holdings) Co., which controls Snow beer, back to its partner.
Deals Unraveled
In clearing these global hurdles, the beer mega deal contrasts with other big proposed tie-ups that unraveled amid antitrust scrutiny, including Halliburton Co.s failed bid for Baker Hughes Inc., Staples Inc.s foiled merger with Office Depot Inc. and General Electric Co.s decision to abandon the sale of its appliance business to Electrolux AB. In the beer deal, the sides were aggressive in offering divestitures from the start — including the plan for SABMiller to sell Snow — which may have ultimately helped reduce regulatory resistance, antitrust lawyers have said.
The U.S. Justice Department may clear the tie-up as soon as this month, people familiar with the process have told Bloomberg News. South Africa has yet to bless the deal, which has hit some obstacles amid protests from local unions.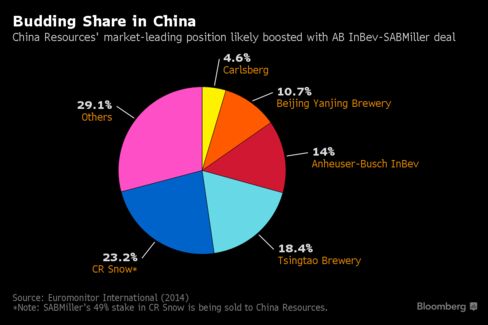 AB InBev and SABMiller declined to comment. China Resources and the commerce ministry didnt immediately respond to queries.
The merger plan, which the two companies reached in November as a way to gain access to emerging markets, has already won antitrust approval in more than a dozen jurisdictions, including the European Union.
In March, China Resources announced it would buy out SABMillers stake in their Chinese venture for $1.6 billion. That deal is also nearing approval from Chinas commerce ministry, the people said.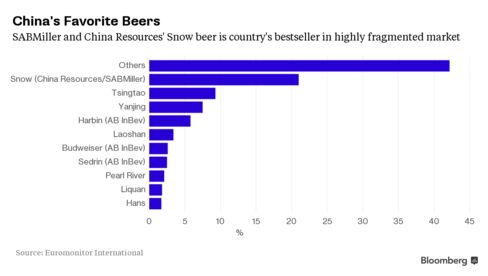 In the U.S., AB InBev has agreed to sell SABMillers stake in the MillerCoors joint venture. It may also have to agree to further conditions related to beer distribution, according to people familiar with the matter. Smaller brewers and wholesalers want officials to restrict AB InBevs control and influence over how beer gets on to store shelves, according to the people.
With assistance by Steven Yang